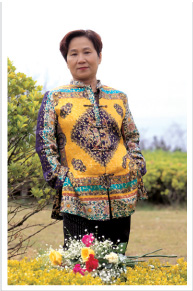 Ms. Hsu devotes herself in the research of flowers and plants essential oil wholeheartedly, and develops health and skin-care essential oil with the joint of domestic and foreign experts for the purest health of all people.
Flowers and plants have their own feeling and breathing. The nature plant therapy is healthy and comfortable. People who can retrieve wisdom from the flora are the happiest ones in the world. The elegant aroma of flowers and plants can gladden people's feeling, release the pressure and restore the energy. When you keep in touch with the natural beauty, you keep healthy.
The whole creation implies the infinite energy. As the source of energy, the Earth deposits all it has on every being. The flowers, plants, and trees obtains the most primitive and sincere description. My most cherished desire is to lead everyone back to nature, and enjoy what the natural flora gives people.
Release pressure in the nature; appreciate flowers and plants' inspiration. You can see the pureness of lotus from the mud, the beauty of rose full of vitality, and the fragrance of orchid with elegant connotation…every plant has its own characteristic and function. To the will of loving flower, cherish flower, loving human, cherish human, and get along with human, I hope all people adoring beauty and worshipping nature can live your own life healthily and happily.